Former U.S. Army Officer Solving Homelessness — Becky Kanis Celebrates 10 Years
Help others catch the vision and share this page.
Originally posted by Community Solutions on January 16, 2013. 
Social Innovation Rock Star: Becky Kanis Celebrates 10 Years of Solving Homelessness
Ten years ago, Becky Kanis started on a journey that would earn her the description "social innovation rock star" and leave her with a tattoo on her arm that symbolized the present and future of her work to end homelessness.
When Women Lead — Solving Homelessness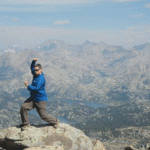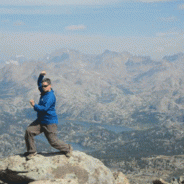 A fierce female in everything she does, Becky graduated from West Point in 1991 as the highest ranked cadet entering the US Army Signal Corps.
Becky was the first woman in history to command a company in the 112th Signal Battalion (Special Operations) (Airborne), charged with providing communications support to special operations forces deployed worldwide.  She later completed a grueling assessment and selection course to gain entrance to an elite Special Mission Unit. 
 In her first role working to solve homelessness, Becky worked in Times Square leading the Street to Home Initiative, which reduced street homelessness by 87 percent in four years. She began with mapping the patterns of homelessness in the area. Using that data, she reached across sectors, connected resources in new ways, and helped local government, businesses and not for profits come together to create a lasting solution to homelessness in that area.
 The experience was the catalyst for the 100,000 Homes Campaign. As director of the Campaign for Community Solutions, Becky leads a movement that has now spread to more than 180 communities working together to house 100,000 of the most vulnerable people living on their streets by July 2014. "Anonymity in homelessness is death," says Becky. 
Breaking Rules to Break Barriers — Solving Homelessness
"I'll probably be the first person to bethrown in HIPPA jail, so I hope you'll al come visit me!"
The Right to Bare Arms — Solving Homelessness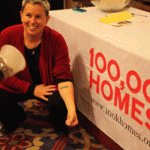 Last year, to celebrate the Campaign reaching 10,000 people housed, Becky branded her left arm with a tattoo of the 100,000 Homes logo, without the final zero (100,000 HOmes). Becky made a plan to add the final zero when the Campaign successfully reached its overall goal, but when she was asked about itrecently, she said she may leave is as is.  "Maybe I want to symbolize oon my bosy that the long march toward social justice is never quite finished – that we can always do more," she said.
Double Trouble — Solving Homelessness
In December of last year, Becky married her wife Christine in a beautiful ceremony in Ojai, CA. Christine heads up Home for Good, Los Angeles' impressive plan to end chronic and veteran homelessness. Together, the two make an inspiring power couple working to end homelessness!
Active Duty — Solving Homelessness
When she's not working to end homelessness, Becky enjoys helping others reach their potential as a certified Hendricks Institute coach. She also spends time hiking, surfing, and doting on her two pugs, Howie and Esther.